Industry's first green perovskite colour enhancement film offering unprecedented colour performance of up to 90% Rec. 2020, 100% Adobe RGB, 100% DCI-P3.
Purest, brightest and widest range of colours for LCD displays of all screen sizes.
Chameleon® G Film is the industry's first perovskite colour enhancement film and cadmium-free narrow green emitter for energy-efficient displays that showcase the purest, brightest and widest range of colours. Chameleon® G Film enable LCD displays with better colour performance and brightness than OLED displays, while maintaining the cost structure of LCD displays.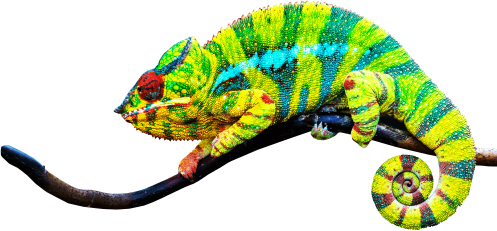 Achieve & Validated Results of Displays Enhanced by Chameleon® G Film
90% REC. 2020 / BT.2020
Created by ITU in 2012 as a UHD 4K/8K standard, Rec. 2020/BT.2020 is the industry's widest colour space used by movie producers and creative content creators for more accurate colour reproduction.
99.X% ADOBE RGB
Developed by Adobe Systems in 1998 to encompass colours achievable on CMYK printers and LCD monitors, Adobe RGB is used by photographers, graphic designers, and others in the print & publishing industry.
99.X% DCI-P3 / Display P3
Introduced by SMPTE in 2007, DCI-P3 was first used in digital projectors for movies shown in cinema and later shifted to consumer displays as the popularity of watching movies on smartphones, tablets, monitors and TV rose.
Why Work With Us
Enjoy these exciting benefits of Chameleon® G Film
EXCELLENT COLOUR PERFORMANCE
Chameleon® G Film offers the industry's narrowest spectral emission (FWHM < 20nm) enabling displays that showcase true-to-life hues and the widest range of colours covering up to 90% Rec. 2020, 100% DCI-P3/Display P3, 100% Adobe RGB, 120% NTSC.
HIGH BRIGHTNESS
High photoluminescence quantum yield of Chameleon® G Film (PLQY >70%) enable displays with peak luminance of up to 2000 nits without the need to drive blue LEDs aggressively, thus simplifying heat management designs.
HIGH DYNAMIC RANGE (HDR) IMAGES
Narrow spectral emission of Chameleon® G Film significantly enhances colour purity and contrast reproduction for displays with deeper darks and brighter lights that meet Dolby Vision & DisplayHDR™ certification standards.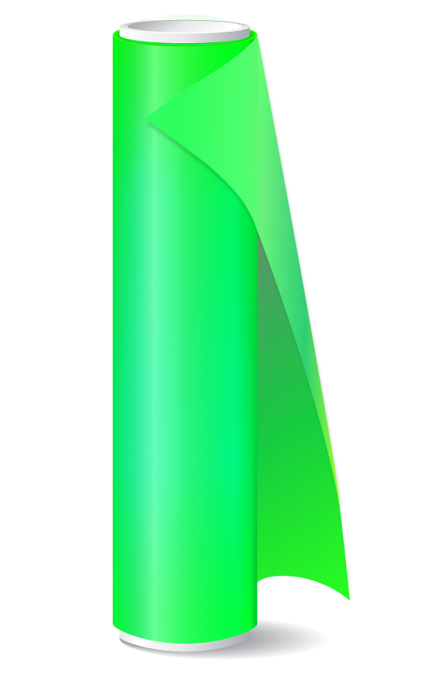 ENERGY EFFICIENT
No light is filtered through Chameleon® G Film as a narrow spectral emission ensures no crosstalk leakage and full down conversion for brighter displays that consume less power.
ROHS-APPROVED
Perovskite nanocrystals is a cadmium-free emitter that offers higher colour performance and luminance than cadmium-based quantum dots (QD). Compliant with all Restriction of Hazardous Substances (RoHS) Directive for use in consumer products with no exemptions required.
COMMERCIALLY SCALABLE
Mass production is made possible with Nanolumi's proprietary high-throughput perovskite nanocrystal synthesis process, our end-to-end capabilities for colour tuning (from powders, concentrates, inks to films), and efficient roll-to-roll film manufacturing process.
Chameleon® G Film Colour Gamut Comparison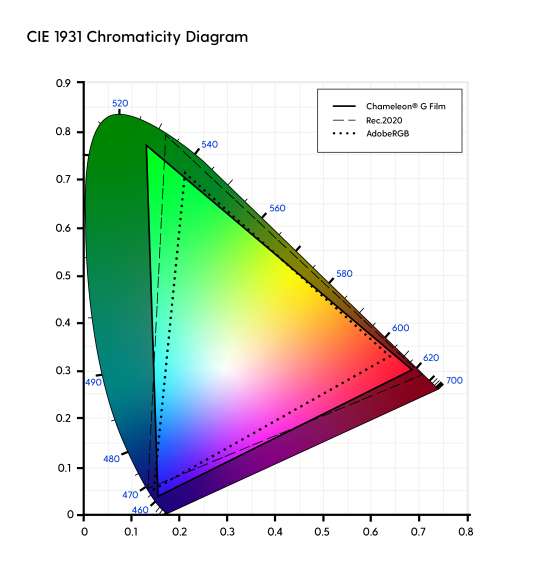 Chameleon G Film replaces the diffuser sheet. No change is required in the existing manufacturing process making implementation straightforward and non-disruptive.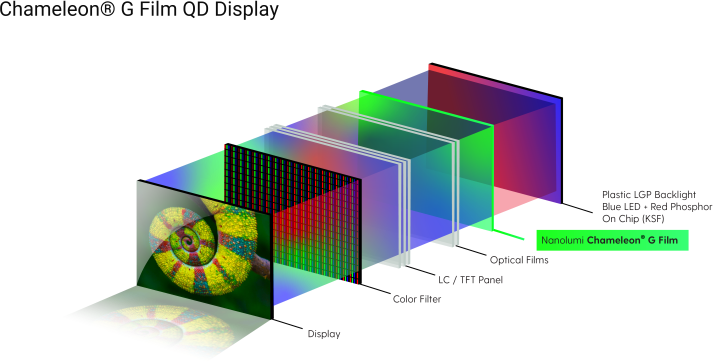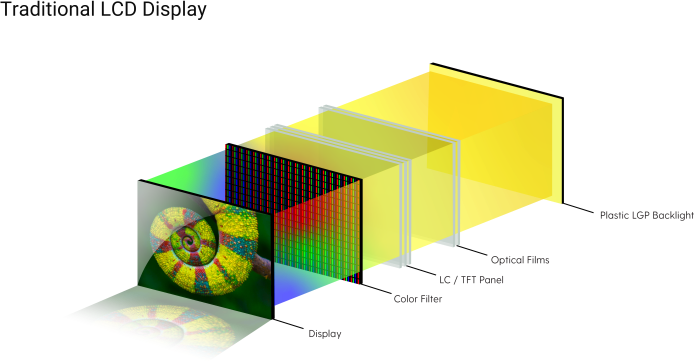 Why Choose Chameleon G Film?
These are the top reasons Chameleon® G Film is the material of choice for our customers.
Traditional LCD Display (Blue-YAG) Broader Spectral Emission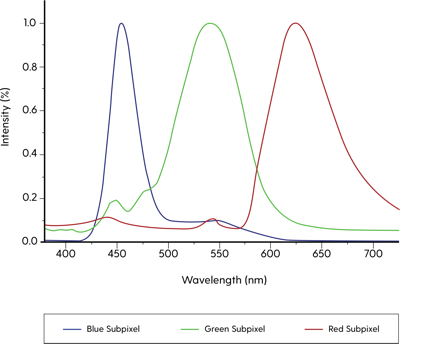 Chameleon® G Film in QD Display Narrower Spectral Emission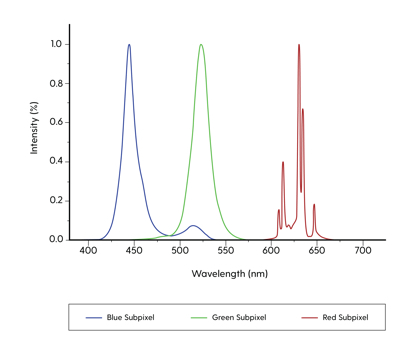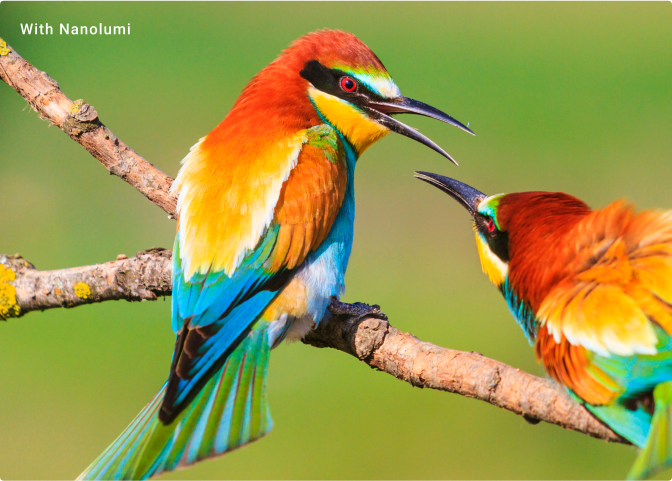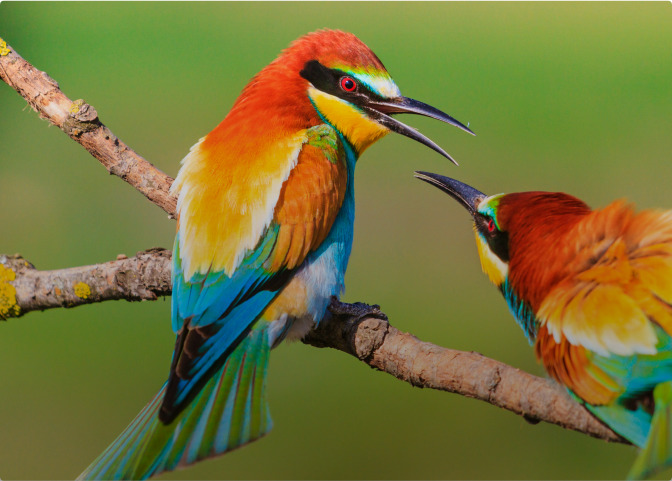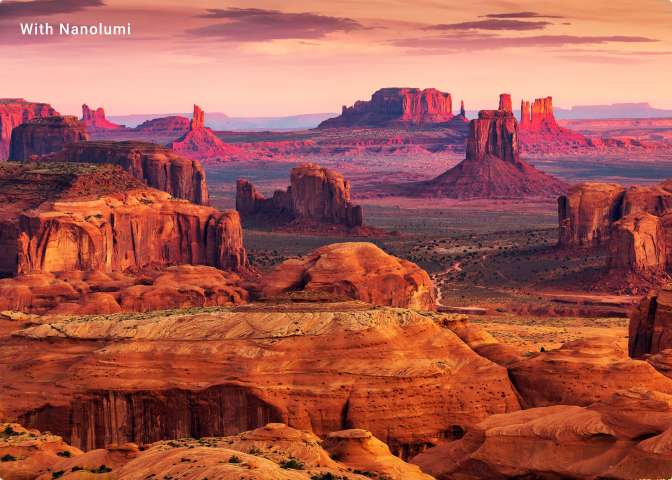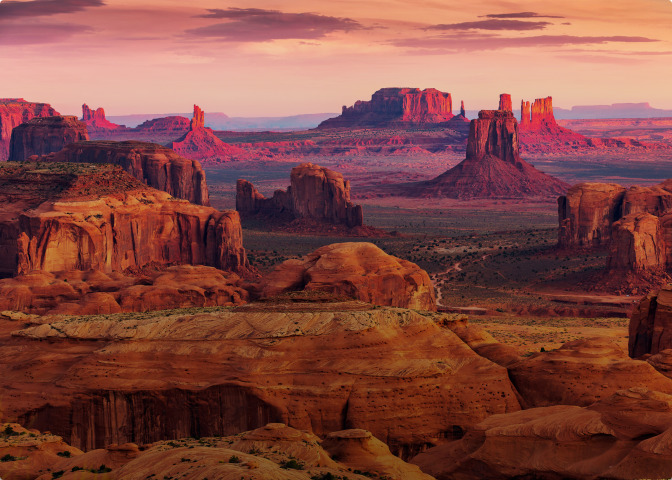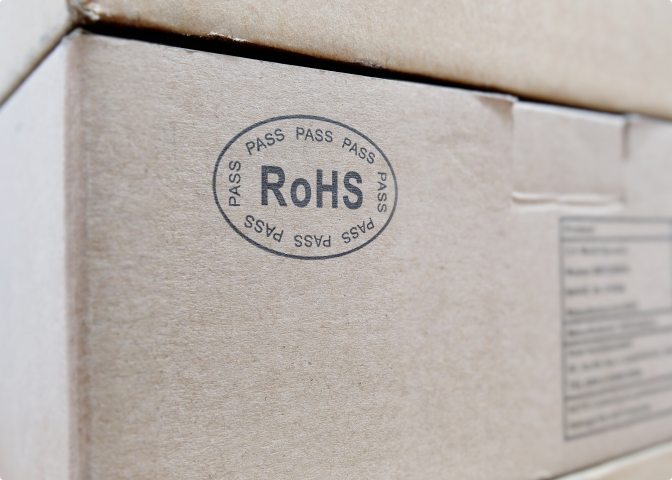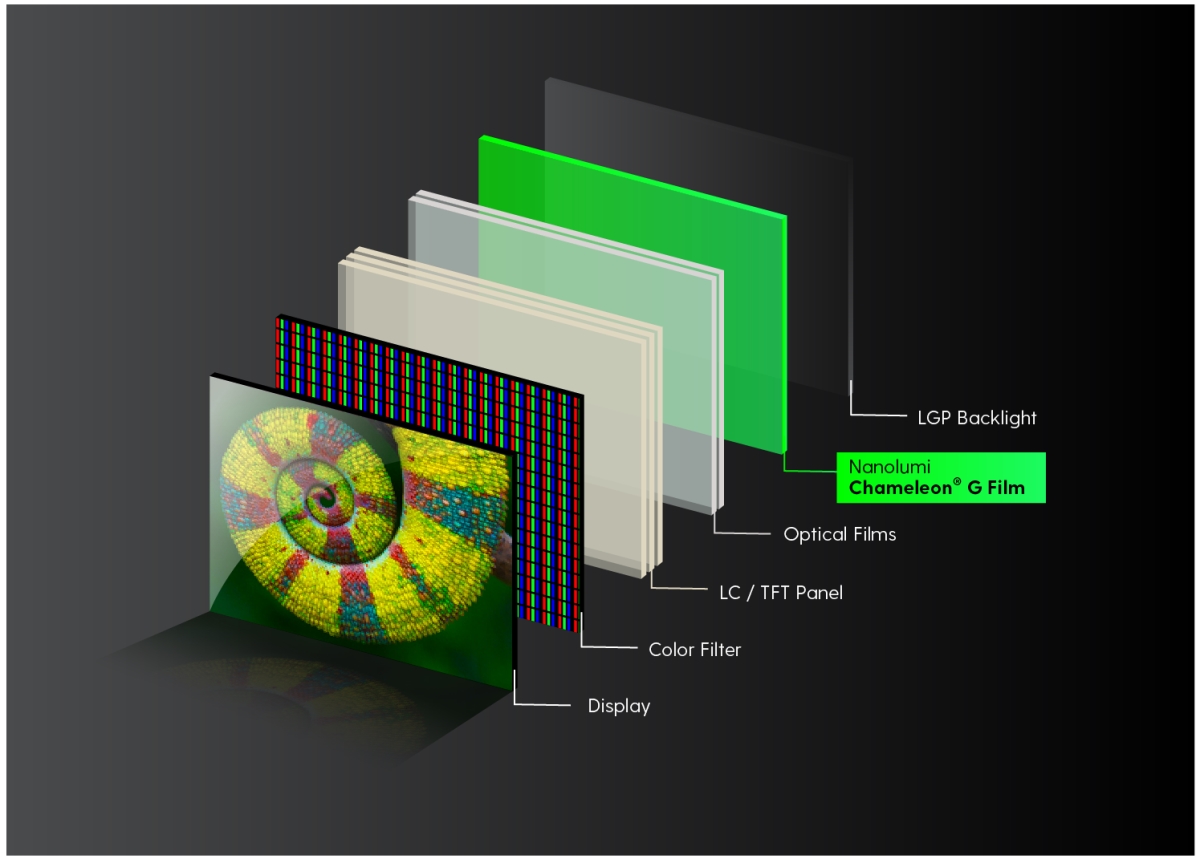 Chameleon® G Film Technical Data Sheet