Be it for work, education or entertainment, displays are the gateway for consuming digital content. Most of us notice when our displays – TVs, monitors, laptops, tablets and phones – are attractively thin and show clear, high quality images. Yet how it works and what it takes to create beautiful pictures on screen is probably not something we think about daily.
The answer lies in how our displays are illuminated as lighting significantly impacts the overall product design, colour performance, brightness, power efficiency, and most importantly for those 'monitoring' their wallets, price of a display.
There are two main types of LED lighting technologies for LCD displays: Edge-lit and Direct-lit. In this blog post, we will focus on the more common of the two, edge-lit displays or edge lighting.
What is Edge-lit?
Displays with edge lighting have LEDs positioned around the perimeter of the screen usually on one edge; The LEDs can be placed along the bottom of the screen, along the top and bottom of the screen or along the left and ride sides of the screen. These LEDs are responsible for lighting up our screens and light emitted from the LEDs are evenly distributed across the entire display with the use of light guides. The absence of light guides may result in edge-lit displays with uneven brightness.
Who is an Edge-lit Monitor for?
Edge-lit monitors are perfect for those unwilling to compromise on picture quality and product design aesthetics, but are tight on space and budget.
Edge lighting technology allows display manufactures to create thinner monitors with a sleek exterior. So, if you live in a tiny apartment or have a small work desk, the slim and space-friendly design of an edge-lit monitor is your best companion for work and play.
The retail price of an edge-lit display is also lower than that of a direct-lit display, making it more affordable for mainstream consumers. They don't just cost less upfront; The high power efficiency of edge-lit monitors leads to further long-term energy savings.
The Perovskite QD Advantage for Edge-lit Monitors
While edge lighting in displays have been around for over a decade, and in spite of the desirable advantages highlighted above, one of the main downsides of an edge-lit monitor is poorer picture quality due to low colour performance. This limitation in colour gamut coverage is caused by the broad light wavelengths emitted from existing LEDs, which reduces colour purity, accuracy and range. To overcome this challenge and expand the colour gamut coverage of edge-lit displays, a technology that can absorb selected broad blue LED light spectrum and convert it into a narrower wavelength is required.
At Nanolumi, we don't just want to enable better displays; Our team believes in making screen time a treat for the eyes every time. We recognize that for that to come true, we needed to enable edge-lit monitors with richer, more lifelike colours. It's our hope for these high colour performance monitors to be accessible and widely available, which means the technology should not cause retail prices to skyrocket. In short, the enabling technology for wider colour gamut edge-lit monitors must be reliable, scalable and cost-competitive; It should enhance colour performance while preserving the thin design, power efficiency and budget-friendliness of today's edge-lit monitors.
Keeping all that in mind, Chameleon® G Film was born.
Illustration: Chameleon® G Film in a wide colour gamut edge-lit display
Chameleon® G Film is the industry's first green perovskite quantum dot (QD) colour enhancement film. Perovskite QD is highly effective at absorbing a broad spectrum of light (such as from existing LEDs) and converting it into emitted light in a narrower wavelength for purer, richer colours.
The video below showcases a 24" edge-lit monitor prototype incorporating Chameleon® G Film. The narrow spectral emission of green perovskite QD-based Chameleon® G Film – with a full width at half maximum (FWHM) of <20nm – offers wide colour gamut coverage of 100% sRGB, 100% Adobe RGB, 96.8% DCI-P3, 90.4% Rec. 2020. This surpasses the colour performance of leading edge-lit LCD monitors in the market today.
Colour Gamut Comparison of Top Edge-lit LCD Monitors in 2020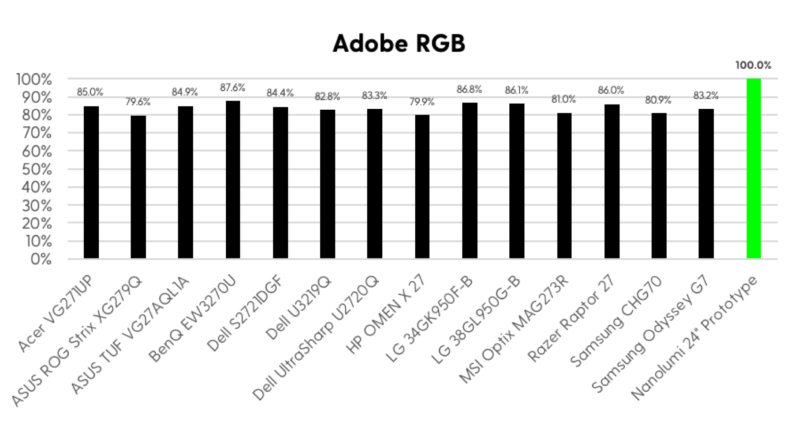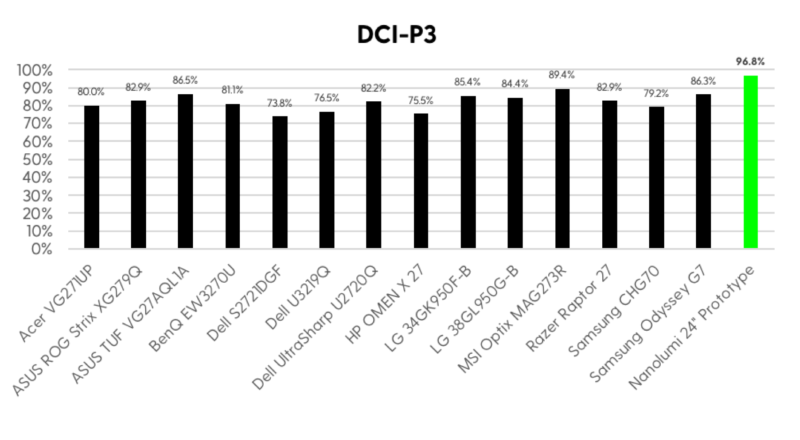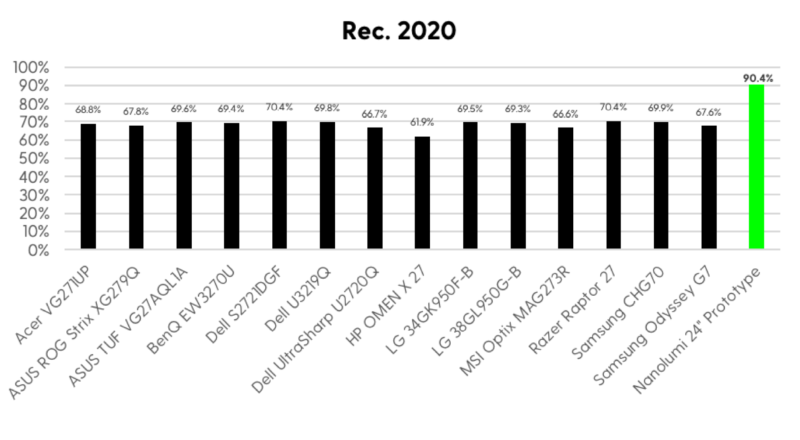 To learn more about how perovskite QD can make a visible difference and significantly improve the colour performance of your next edge-lit displays, contact us here or send us an e-mail at info@nanolumi.com.